Oddscatcher relaunch update – get a free account!
Our good friends over at Tipster Platforms have recently relaunched their OddsCatcher betting service.
We won't bore you with all the technical details of the extensive overhaul…all you really need to know is three key facts:
There is now a totally free membership. This gives you limited access to part of the system so you can see for yourself the amazing profit potential.
The software behind OddsCatcher has had a major upgrade. It now finds you more profitable bets in a quicker time.
 The price has been reduced. The old version of OddsCatcher cost £57 per month…and you then had to pay an extra £17 per month to access Market Movers. The new, improved, more profitable, version of OddsCatcher costs just £27 per month (or £270 per year)…and includes Market movers at no extra cost.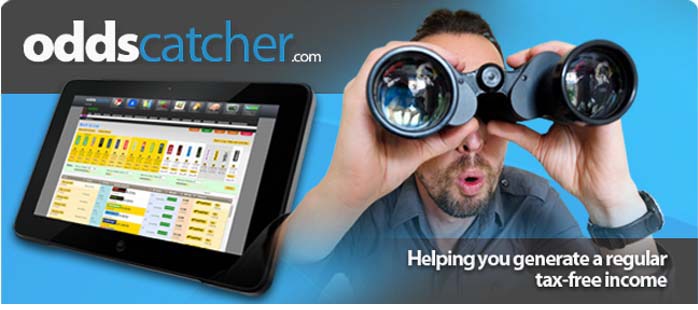 OUR ADVICE – The free membership is great. You get to make a few quid from the bet365 loophole. You also have full access to all the user guide and videos. However, the real profits start flowing when you upgrade to full access. We recommend the annual subscription because it's the best value…but the monthly subscription is still excellent value for money considering what you get it return.
Join OddsCatcher today and get all this:
BET365 LOOPHOLE
Leading bookmaker bet365 offer a daily opportunity to lock-in a profit in no more than five minutes a day.
OddsCatcher has a clever piece of software that does all the work for you. All you need to do is login and place your bets.
Even better…all you need to take full advantage of this daily loophole – including access to the software – is available totally free of charge!
https://www.oddscatcher.com/gb
MARKET MOVERS
Market Movers is a daily service highlighting horse(s) whose prices look certain to shorten before the off.
Simply by betting at the early bigger price means that when the odds do shorten you are in a position to lay the same horse on the exchanges at the shorter price. Giving you a profit no matter what happens! Simple…but brilliantly effective!
https://www.oddscatcher.com/gb
ARB MARKETS
The wonderful world of Arbitrage Trading allows you to create multiple betting situations every day that lock-in a profit.
No hours of studying form. No specialist knowledge required. No huge betting bank needed.
BACK TO LAY
OddsCatcher's unique software highlights multiple Back-to-Lay opportunities every day. Doing all the work in the background so you don't have to. All you have to do is click on to the Back-to-Lay page on the site to see all the day's runners that are trading shorter on Betfair than with the bookmakers.
https://www.oddscatcher.com/gb
ACCOUNT MANAGEMENT
As part of your OddsCatcher membership you will have full access to their bookmaker account management service.
This is a fully secure and data-protected facility that will allow you to manage all your bookie accounts from one screen.
OddsCatcher will track ALL your bets, record ALL your results, calculate ALL your winnings and automatically update ALL your balances in ALL your bookmaker accounts.
https://www.oddscatcher.com/gb
---
18+ The content on this site is not intended for to be viewed by anyone under the age of 18 years.


begambleaware.org
** Bash The Bookies cannot be held responsible for any losses incurred from the use of information contained in this email or site. Past results are not a guarantee of future results. NEVER bet with money you can't afford to lose. **
** Material disclosure: if you sign up for any service using the links on this page or site, I may be paid a small commission. Whatever happens it won't cost YOU anything. Just so you know.. **